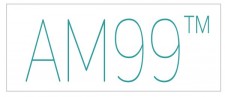 MindBeauty is giving consumers peace of mind knowing the AM99™ mask is providing real, proven protection against COVID-19.
SAN FRANCISCO, November 10, 2020 (Newswire.com) - Though masks are all intended to protect against COVID-19, the textiles that are used aren't created equal.
This is especially true for MindBeauty's AM99TM mask. The wellness-based digital app company with U.S. based operations in San Francisco, California, took the simple idea of facial coverings to the next level to create a patented cloth-like textile that's sustainable and economic. The AM99 mask offers protection from the coronaviruses and 17 other types of microorganisms.
"The textiles we use to create our masks are unlike any other variety on the market," said Joei Lau, Founder of MindBeauty, "That's because we infused invisible nanotechnology that's been lab certified for antiviral and antibacterial efficacy to provide a higher level of protection than you'd get from a traditional cloth mask."
The AM99 mask is thoughtfully crafted with an innovative seam design that creates space for breathing comfort, adjustable earloops for customization, and a nose bridge supporter that provides a better fit.
All of these elements work in unison to create a solid barrier to not only protect the wearer but those around them.
What makes the AM99 mask different from other masks on the market?
Received the JIS L1902 certification, which is the standard that specifies methods to determine the antibacterial effectiveness of woven and non-woven textile products.
Lab research has shown that after 70 hand washes, the AM99 mask remains effective in neutralizing 99.9 percent of MRSA-resistant pathogens used in testing.
Proprietary nanotechnology provides a physical barrier and neutralizes COVID-19 respiratory droplets on contact.
Research has shown 95 percent viral de-activation efficiency within two hours, decreasing the chances of viral transmission.
Enjoy peace of mind in knowing the AM99 mask offers true protection against viruses and other microorganisms.
About AM99
MindBeauty created the AM99™ line of protective face masks as a response to the heightened need for simple and effective solutions to contain, protect against, and minimize the effects of the global outbreak. The result is a reusable face-mask is an effective, safe, and fashionable option that's early-to-market for users and outperforms other masks in the market landscape. AM99™ face masks leverage proprietary nanotechnology and are lab-certified to protect against the current COVID-19 pandemic and other potentially harmful microorganisms. AM99™ masks offer an additional layer of lab-certified protection that actively neutralizes COVID-19 and other potentially harmful microorganisms on contact. Learn more at am99tech.com.
CONTACT INFORMATION:
Tiffany Kayar
tiffanyPR@newswirecontact.com
Source: MindBeauty
Share: