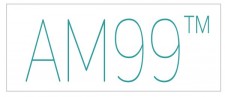 Doctor-certified and rigorously tested across several international standards, the AM99 face mask is the next generation of face mask that employs superior proprietary antiviral nanotechnology and is hand-washable and more comfortable than other alternatives.
SAN FRANCISCO, September 30, 2020 (Newswire.com) - As schools across the country wrestle with how to minimize COVID-19's impact with school in session, other parents can take more decisive action with the AM99 face mask, developed by MindBeauty. The AM99 face mask holds a number of certifications for its proprietary nanotechnology that is proven to deactivate COVID-19, among many other harmful pathogens, on contact. Its durability and unique antiviral properties that allow the mask to stay sanitary for longer than any other material make the AM99 face mask the ideal choice for parents this school year.
AM99 has been tested according to lab standards from around the globe to ensure and prove its effectiveness against harmful pathogens, several of which are readily available on the AM99 website. The AM99 face mask is also doctor-certified, making it a clear front-runner versus independent vendors and solopreneurs looking to capitalize on an exploding personal protective equipment (PPE) market.
"It's the same mask I use in my everyday life," says Joei Lau, founder of AM99. "Not only is the AM99 face mask backed by thousands of hours of research and approved by countless doctors, but it was designed with comfort and practicality in mind."
AM99 masks are laboratory-certified to protect against the COVID-19 and other potentially harmful microorganisms including MRSA, E. coli, Klebsiella pneumoniae, to name a few. The cotton-based antimicrobial fabric keeps the mask sanitary longer and is washable up to 70 times while maintaining its powerful antimicrobial efficacy. This makes the masks a more cost-effective, less wasteful and more comfortable alternative to disposable masks.
Rest easy knowing children are protected and comfortable and wearing a mask that stays clean longer when they return to school.
About AM99
MindBeauty created the AM99™ line of protective face masks as a response to the heightened need for simple and effective solutions to contain, protect against and minimize the effects of the global outbreak. The result is a reusable face mask that is an effective, safe and fashionable option that's early-to-market for users and outperforms other masks in the market landscape. Learn more at am99tech.com.
CONTACT INFORMATION:
Tiffany Kayar
tiffanyPR@newswiremail.com
Source: MindBeauty
Share: