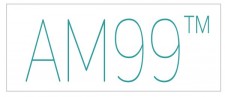 Patented Japanese nanotechnology is behind the proven antibacterial properties that neutralize airborne contaminants and harmful pathogens on contact.
SAN FRANCISCO, September 25, 2020 (Newswire.com) - The AM99™ reusable face mask utilizes Japanese, patented nanotechnology that is effective in not only shielding against spray and splashback but also has proven antibacterial properties that deactivate harmful contaminants — including COVID-19 — on contact. The antibacterial nature of the reusable and washable fabric ensures that the facemask is odor-free at all times and also helps to prevent acne potentially caused by mask-wearing.
Research shows 95% viral de-activation efficiency within two hours, decreasing the chances of viral transmission. The AM99™ reusable face mask has been rigorously tested across multiple international standards to ensure users have the peace of mind to know they're wearing the most effective, next-generation mask on the market today.
According to Joei Lau, Founder of AM99™, "The AM99™ mask is cost-effective, sustainable, hand-washable, and customizable. The patented technology that sterilizes contaminants creates a passive barrier to the world around its user and ensures the wearer and those around are adequately protected in any public space."
Among its many certifications, the AM99™ mask holds the JIS L1902 certification, which is the standard that specifies methods to determine the antibacterial effectiveness of textile products, woven and non-woven. According to lab research, results show that after 70 hand washes, AM99™ face masks remain effective to neutralize 99.9% of Methicillin-resistant pathogens used in testing.
Protect yourself with the power of this nanotechnology. Order AM99™ masks.
About AM99
MindBeauty created the AM99™ line of protective face masks as a response to the heightened need for simple and effective solutions to contain, protect against and minimize the effects of the global outbreak. The result is a reusable face-mask is an effective, safe and fashionable option that's early-to-market for users and outperforms other masks in the market landscape. AM99™ face masks leverage proprietary nanotechnology and are lab-certified to protect against the current COVID-19 pandemic and other potentially harmful microorganisms. AM99™ masks offer an additional layer of lab-certified protection that actively neutralizes COVID-19 and other potentially harmful microorganisms on contact. Learn more at am99tech.com.
CONTACT INFORMATION:
Tiffany Kayar
tiffanyPR@newswiremail.com
Source: MindBeauty
Share: